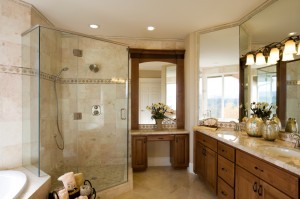 Raise the value of your home by updating your bathrooms. Remodeling your bathroom is the number one rated way to increase the net worth of your home, while instantly providing beauty and style.
We can provide you with the professional renovation services and materials that you want—whether for a large master bathroom, or a small half bath.
Our remodeling services include:
Layout design and planning
Material selection for flooring, countertops, walls
Placement and selection of sink, shower, tub and toilet
Updated plumbing and fixtures
Unique customizations
Complete installation through final inspection and approval
And more!
Our team at Design Build Remodeling Group has been providing professional remodeling and renovation services for over 30+ years and can help you every step of the way. We provide services to Howard County, Carroll County, Frederick County, Anne Arundel County, and Montgomery County, Maryland.
Contact us to learn about the materials and services we can provide to make your bathroom remodeling project shine.
Gallery of Completed Bathroom Projects