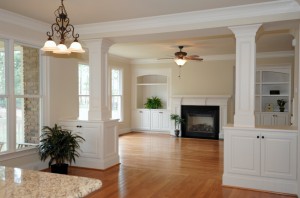 Is your existing space cramped? In need of a bigger home? Don't move out, add on!
Solve your living space problems by adding several rooms to your existing home.
A multi-room addition can truly transform your home, but it's not a step to be taken lightly. It involves many of the same things a new home construction does – planning, zoning, permits, foundation, footers, HVAC, plumbing, electrical work, windows, flooring, etc.
That's why it's critical for you to choose the right contractor to do the job.
Design Build Remodeling Group has competently handled a variety of home additions and improvements, including second-story additions. Our vast experience has given us a broad knowledge of what customers want, and the ability to create quality home projects. When it comes to your family's comfort and safety, you want the best.
Room Additions Include:
Design, planning and layout of new room
New walls, drywall, and flooring
Rearranging existing space to coincide with the new addition
Installation of any appliances or large room features
Installation of new lighting
Installation of new windows and doors
And more!
Contact Design Build Remodeling Group to begin designing a single or multi-room addition for your home today.