Whole House Renovations in the Baltimore & Metro Washington, DC Area
Serving Carroll, Frederick, Baltimore, Howard, Montgomery, and Northern Anne Arundel Counties
What does it mean to have a "whole house renovation"?
Adding, changing or remodeling 50 percent or more to your living space involves what remodeling contractors term, "whole house renovation".
Whole House Renovation Possibilities:
All new framing, drywall and insulation
Redesign and layout of existing room structure
Complete new electrical, plumbing and HVAC systems
Replacement roofing
New flooring throughout the house
Kitchen renovation and remodeling
Additional or remodeled bathrooms
New masonry walls in the basement
Accommodations for disability needs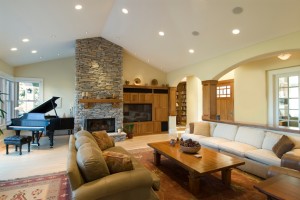 It's a big project – but one that offers a big return for families who love their location and property, and don't want to relocate. It works well for older homes with good basic structure, but are in need of updating kitchens, bathrooms, electric and plumbing.
With a project of this size, it's essential that you choose the right contractor. One that not only has the experience and expertise to do a quality job, but also someone you'll enjoy working with closely. Someone who knows the importance of good communication and how to accommodate family needs during the renovation process.
The staff at Design Build Remodeling Group of Maryland has years of experience providing high-quality renovation and remodeling services to families in the Anne Arundel, Baltimore, Carroll, Frederick, Howard and Montgomery Counties. Our company knows how to put customers-service high on our list while providing superior professionalism and craftsmanship.
Contact Design Build Remodeling Group to learn how your home can benefit from a whole house renovation.
Gallery of Completed Whole House Renovations