Garages
Serving Carroll, Frederick, Baltimore, Howard, Montgomery, and Northern Anne Arundel Counties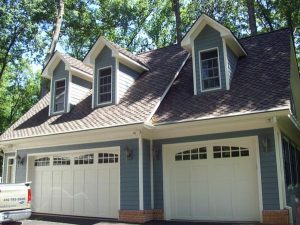 Garages were originally created as a place to store your car. Over time, however, the initial purpose of a garage was lost. Garages have become home storage units, workout spaces, and tool sheds—leaving your car parked in the driveway, exposed to unpredictable Maryland weather conditions, potential home intruders, and excess pollen and debris.
If your garage is full of so much stuff that there is no room for your car, it may be time to consider a garage addition.
With a garage addition, you get the best of both worlds. You have a secure, clean place to store your car and you have extra space for storage and activities.
Have you always wanted a tool shed? Adding space to your garage can provide an area for your workbench and tools—even in a residential neighborhood. Extra space allows for a place to put the kids' bikes, toys, furniture, and camping gear. By adding on to your garage, you will even have a designated spot for your lawn and garden equipment—no longer will you trip over that pesky leaf blower while trying to get to your holiday decorations!
Some of our clients have even customized their garage to include a full exercise area.
With a garage addition, the possibilities are nearly endless. Have an idea for your addition? Call Design Build Remodeling Group of Maryland today at 443-300-2268​​​​​​​​​​​​​​​​​​​​​​​​​​​​​​​​​​​​​​​​​​​​​​​​​​​​​​​​​​​​​​​​​​​​​​​​​​​​​​​​​​​​​​​​​​​​​​​​​​​​​​​​​​​​​​​​​​​​​​​​​​​​​​​​​​​​​​​​​​​​​​​​​​​​​​​​​​​​​​​​​​​​​​​​​​​​​​​​​​​​​​​​​​​​​​​​​​​​​​​​​​​​​​​​​​​​​​​​​​​​​​​​​​​​​​​​​​​​​​​​​​​​​​​​​​​​​​​​​​​​​​​​​​​​​​​​​​​​​​​​​​​​​​​​​​​​​​​​​​​​​​​​​​​​​​​​​​​​​​​​​​​​​​​​​​​​​​​​​​​​​​​​​​​​​​​​​​​​​​​​​​​​​​​​​​​​​​​​​​​​​​​​​​​​​​​​​​​​​​​​​​​​​​​​​​​​​​​​​​​​​​​​​​​​​​​​​​​​​​​​​​​​​​​​​​​​​​​​​​​​​​​​​​​​​​​​​​​​​​​​​​​​​​​​​​​​​​​​​​​​​​​​​​​​​​​​​​​​​​​​​​​​​​​​​​​​​​​​​​​​​​​​​​​​​​​​​​​​​​​​​​​​​​​​​​​​​​​​​​​​​​​​​​​​​​​​​​​​​​​​​​​​​​​​​​​​​​​​​​​​​​​​​​​​​​​​​​​​​​​​​​​​​​​​​​​​​​​​​​​​​​​​​​​​​​​​​​​​​​​​​​​​​​​​​​​​​​​​​​​​​​​​​​​​​​​​​​​​​​​​​​​​​​​​​​​​​​​​​​​​​​​​​​​​​​​​​​​​​​​​​​​​​​​​​​​​​​​​​​​​​​​​​​​​​​​​​​​​​​​​​​​​​​​​​​​​​​​​​​​​​​​​​​​​​​​​​​​​​​​​​​​​​​​​​​​​​​​​​​​​​​​​​​​​​​​​​​​​​​​​​​​​​​​​​​​​​​​​​​​​​​​​​​​​​​​​​​​​​​​​​​​​​​​​​​​​​​​​​​​​​​​​​​​​​​​​​​​​​​​​​​​​​​​​​​​​​​​​​​​​​​​​​​​​​​​​​​​​​​​​​​​​​​​​​​​​​​​​​​​​​​​​​​​​​​​​​​​​​​​​​​​​​​​​​​​​​​​​​​​​​​​​​​​​​​​​​​​​​​​​​​​​​​​​​​​​​​​​​​​​​​​​​​​​​​​​​​​​​​​​​​​​​​​​​​​​​​​​​​​​​​​​​​​​​​​​​​​​​​​​​​​​​​​​​​​​​​​​​​​​​​​​​​​​​​​​​​​​​​​​​​​​​​​​​​​​​​​​​​​​​​​​​​​​​​​​​​​​​​​​​​​​​​​​​​​​​​​​​​​​​​​​​​​​​​​​​​​​​​​​​​​​​​​​​​​​​​​​​​​​​​​​​​​​​​​​​​​​​​​​​​​​​​​​​​​​​​​​​​​​​​​​​​​​​​​​​​​​​​​​​​​​​​​​​​​​​​​​​​​​​​​​​​​​​​​​​ and watch your garage dreams become reality!
Garage Addition Services
When planning and budgeting for a large-scale home improvement project, you want to know the details. At Design Build Remodeling Group of Maryland, we recognize that this is your home and want to leave you happy with the end result. We cooperate with you throughout the entire process and are dedicated to your project from start to finish.
To understand the kind of detail and dedication we put into your garage addition, consider the following services:
Planning and layout of new garage space
Construction of new walls and flooring
Installation of concrete flooring
Placement and installation of windows and doors
Installation of new garage doors (new garage doors can add a unique look to your home's exterior)
Installation of shelving units
And more!
We put the homeowner first—and with over 30 years of experience in home improvement services, Design Build Remodeling Group of Maryland is a name you can trust. Contact us today for an estimate!
Ideas for Your Garage Addition in Central Maryland
While the main reason for a garage addition is to add extra space, what you do with that space matters. Wondering what you'll do with the extra garage space? We've constructed some ideas for garage additions you may want to consider.
Add space for additional cars. The most common reason for expanding your garage is to have room for additional vehicles. Most families have at least two cars—if their kids are young adults, that number is usually much higher. Having extra garage space allows peace of mind that everyone's car is secure and protected from the elements.
Create a tool shed or work space. Are you into carpentry? Crafting? Need a safe and secure place to store your tools? A garage addition will allow for extra space and keep your materials and tools organized.
Create a recreation room. Creating a fun entertainment space in your garage allows you to separate your home from the noise of a Super Bowl party or your teenager's movie night. With this garage addition, you'll have a place to relax.
Organize your storage. Adding on space in the garage allows you to organize your storage boxes, holiday decorations, and lawn care tools.
Build an in-home gym. Adding an addition to your garage can make it possible to set up a workout area you won't have an excuse to not use, since it will be steps from your front door.
Construct an above-garage apartment. If you have visitors often, extra living space is necessary. An above-garage apartment is a great addition that gives guests a comfortable place to stay—without feeling like they are intruding on your home!
These days, garages function as more than simple a place to park the car— and the possibilities for a garage addition are endless!
Rest assured, we are skilled in the design and implementation of grand, complex projects—no idea for your garage addition is too big—contact us today to find out about the services we can offer you!
Call Us Today to Learn More About Adding On to Your Home!
At Design Build Remodeling Group of Maryland, we have extensive experience with garage additions and can help you create one that includes all of the features you want. We constantly strive for excellence in every job we do—and we want you to love the home you live in. Why not create more usable and livable space by extending or remodeling your garage?
Ready to plan, design, and build your new garage? Contact Design Build Remodeling Group of Maryland today—and we will help you create the garage of your dreams!
Areas we service: Ellicott City, Eldersburg, Baltimore, Catonsville, Columbia, Milford Mill, Owings Mills, Pikesville, Randallstown, Reisterstown, and Westminster.