Multi-Room Additions
Serving Carroll, Frederick, Baltimore, Howard, Montgomery, and Northern Anne Arundel Counties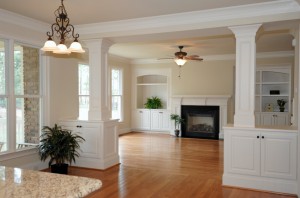 Is your existing space cramped? If so, you've likely pondered the idea of moving into a larger home. However, the problem you're facing is that you don't want to move out. You love the home you have—you just wish it was updated.
Our solution? Don't move out — add on!
A multi-room addition can do wonders for your home. While adding a single room can give your house an extra dimension of livability, adding several rooms at once can trigger a whole different magnitude of change.
A large-scale home improvement project should give you more than just extra space—it should give you the comfort you desire. By adding on multiple rooms at once, you have the ability to make your desires a reality. Multi-room additions change the entire look, feel, and livability of your home—you'll be amazed by the transformation.
However, large-scale additions are not to be taken lightly. Multi-room additions involve many steps similar to that of a new construction project. Planning, zoning, and permits are among some of the first steps—and plumbing, HVAC, electrical work, and windows are just a few of the final touches. That's why it's critical for you to choose the right contractor to do the job.
Design Build Remodeling Group of Maryland has competently handled a variety of home additions and improvements, including second-story additions. Our vast experience has given us a broad knowledge of what customers want and the ability to create quality home projects. When it comes to your family's comfort and safety, do not settle for less than the best on your multi-room additions.
Contact us today—we'd love to chat about your project!
Our Process for Multi-Room Additions in MD
At Design Build Remodeling Group of Maryland, we strive for excellence. Our team is proactive in meeting your every need. We want to make the design and build process of your multi-room addition as simple and stress-free as possible. To achieve this goal, our design process looks something like this:
In-home consultation. As a first-step toward your new additions, our expert team will sit down to discuss with you the scope of your project. We'll take measurements, listen to your ideas and addition needs, and give you a general estimate for the work you want done.
Design, planning and layout of new room. During a second meeting, we'll present you with several options for addition designs we have created. You will have the opportunity to make changes, give us input, or halt your project for up to 12 months.
Final preparation. After the initial plan is set, we work with you to refine, design, and create your masterpiece. In this stage, we will also sign contracts and take final measurements to ensure accuracy prior to construction.
Construction and implementation. During this stage, we finalize project ideas, discuss warranties, and do the best we can to work around your daily life. Our project management team will always keep you informed of the progress being made on your multi-room additions.
Clean up. After we complete your addition, it is our priority to leave you with a mess-free, livable space.
Your only job in the entire process is to enjoy your new space—we take care of the rest.
Contact us today to discuss your multi-room addition!
Our Multi-Room Addition Services
Designing and planning of new rooms.
Custom floor plans and rearranging of existing space.
New walls and drywall installation.
New flooring installation.
Installation of any appliances or large room features.
Installation of new lighting.
Installation of new windows and doors.
And more!
If you can dream it, we can design it! Our knowledgeable staff and experienced workforce has provided top-notch multi-room additions in Carroll County, Howard County, Montgomery County, Frederick County, Baltimore County, Anne Arundel County, and many other parts of Maryland.
Contact Design Build Remodeling Group of Maryland to begin designing a single or multi-room addition for your home today!
Why Choose Design Build Remodeling Group of Maryland for Your Multi-Room Addition in MD?
At Design Build Remodeling Group of Maryland, we specialize in the design and construction of major, large-scale home-remodeling projects. We have been in the home remodeling industry for over 30 years—and can ensure dedication and satisfaction for every project we tackle.
It's your home, so we keep you in the loop. Our project managers consult with you regularly to ensure your happiness throughout the entire process. And, we understand the hassle and annoyance associated with remodeling—which is why we try to finish your multi-room addition as quickly and efficiently as possible.
Contact us today</a by giving us a call (443) 300-2268 and let us show you why Design Build Remodeling Group of Maryland's choice for all of your home addition needs!
Areas we service: Ellicott City, Eldersburg, Baltimore, Catonsville, Columbia, Milford Mill, Owings Mills, Pikesville, Randallstown, Reisterstown, and Westminster.