Kitchens
Serving Carroll, Frederick, Baltimore, Howard, Montgomery, and Northern Anne Arundel Counties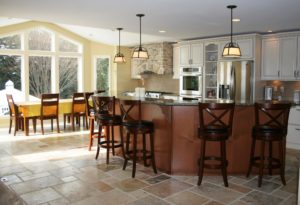 There's no doubt about it: the kitchen is the heart of your home. No longer just a place to cook, kitchens have become a spot for spending quality family time, entertaining guests, and doing daily chores and activities. You want your kitchen to be welcoming, comfortable, and functional—but without ample storage, practical layout, and comfortable seating, your kitchen may not be able to take on all that you want to do. So, how do you transform your space into the kitchen you've always wanted?
Design Build Remodeling Group of Maryland can work with you to create the kitchen of your dreams. We offer kitchen remodeling and kitchen addition services to homes throughout Howard County and the surrounding areas. Our expert team will work with you each step of the way, from general ideas and rough concepts to designing and project completion. With many years of experience, we know how to take the burden away from homeowners and make the renovations run smoothly from start to finish.
Let Design Build Remodeling Group of Maryland help bring your dream kitchen to life. We specialize in kitchen remodeling for homes in Baltimore and Washington, DC and the surrounding areas. Call (443) 300-2268 to get started!
Gallery of Completed Kitchen Projects
Crafting Your Custom Kitchen in Howard County
We know that you want your kitchen to meet your needs and reflect your style. Our experienced staff will take the hard work out of planning your kitchen remodel, while leaving you with as much creative input as you want. We offer services that give you an extensive library of options to customize your kitchen. From faucets and appliances to custom countertops, lighting, cabinetry, and more, we have over 30 years of industry knowledge, resources, and experience to help you find exactly what you're looking for.
Our team takes pride in having unparalleled attention to detail and the experience to bring your vision to life. After all, you know what you want and we're the experts at making that wish a reality. Are you thinking about adding granite countertops? A walk-in pantry? Perhaps an island with seating? When you choose us for your kitchen remodeling project, we will work with you and your ideas to implement a unique plan perfect for both your home and your family. We know how important it is to have a space that reflects your lifestyle while integrating seamlessly with your home.
Maryland Kitchen Planning Services
The best thing about choosing Design Build Remodeling Group of Maryland? We offer in-house planning and design services that make your kitchen remodeling project easier than ever. Whether you have a stack of bookmarked design magazines, a long list of Houzz Idea Books, or a Pinterest board brimming with ideas, our design team can determine the best ways to bring your collection of ideas into one cohesive plan.
We will take a look at your existing kitchen and adjoining rooms to explore all your remodeling options. That way, we can determine which walls can be removed and where windows and additions can be added. We will make sure our recommendations won't compromise the integrity or resale value of your home, so you can rest assured you're in good hands.
Ready to get started planning the kitchen of your dreams? Contact us online today!
What to Consider While Planning Your Kitchen Remodel
There are many facts to consider while planning a remodeling project. When choosing cabinetry, countertops, appliances, hardware, paint colors, and more, there are a lot of factors you should consider. While planning the look and feel of your new space, ask yourself: what kind of budget do I want to work with? How should the kitchen be laid out? What is my intended use—cooking, entertaining, or having a gathering place for family? Once you figure out the basics, you must consider the specifics, such as:
Floors
Your floors will tie the whole kitchen together. Whether you want to add natural stone, ceramic tile, hardwood, or something else, our team can help you find the perfect color and material for your space. If you have pets, we can help you find an equally beautiful and scratch resistant option.
Windows
No matter the weather, you want your windows to be properly insulated and beautiful. Whether it's a snowy winter day or an extremely hot afternoon in the summertime, the windows installed by the team at Design Build Remodeling Group of Maryland are premium quality.
Doors
Are you hoping to have a certain kind of door installed in your kitchen? No matter the style, the team at Design Build Remodeling Group of Maryland is here for you. Add solid wood doors, sliding glass doors, barn doors, modern doors, French doors, or something else in order to bring life and character into your kitchen.
Cabinets
With a variety of colors, textures, and styles to choose from, cabinets can truly change the look and feel of your kitchen. Between classic stained, painted, natural wood, and modern laminate options, our team can help you find the perfect material for your space.
Countertops
One of the most popular parts of the kitchen remodeling process is the countertops. With a myriad of options, including marble, granite, and natural stone, you can center your new kitchen around this element or make them the finishing touch!
Paint
Whether you choose classic neutrals, pops of color, or even an accent wall, paint can truly define and create the mood of a room. Our team can help you determine the best color to match your new kitchen's style.
Appliances
Electric stovetops, built-in refrigeration, wine coolers, dishwashers, and more—these are all items that can be seamlessly added to your new kitchen. Let us help you choose your state-of-the-art appliances and bring out your inner chef.
Accessories
Let's face it: even the smallest finishing touches can make a huge impact on the overall look and feel of your kitchen. We will walk you through your options and help make your new kitchen as functional as it is beautiful.
Kitchen Additions in Baltimore
Adding an in-law suite to your home? Need to include a kitchen to this design plan? Want to include a secondary kitchen to your existing home? Would you love a breakfast nook? Design Build Remodeling Group of Maryland can guide you every step of the way, no matter what kind of kitchen addition you are looking to design. Whatever you decide, we can assure that your new kitchen will add value and beauty to your home. By adding an addition to your kitchen, you can enjoy a bigger, more organized space.
Our team can help with the following for your kitchen addition:
Layout design
Material selection for flooring, cabinets, paint color
Placement and selection of appliances
Construction of new walls and flooring
Placement and installation of windows and doors
Placement and installation of lighting fixtures
And more!
Kitchen Remodeling & Additions in Washington, DC
A kitchen remodeling project or kitchen addition is a huge undertaking. You'll want to make sure you have a team of experts to help you every step of the way. The staff at Design Build Remodeling Group of Maryland has years of experience providing high-quality kitchen renovation services to families in and around Montgomery County. We take pride in giving our clients top quality craftsmanship and professional services.
Are you ready to get your kitchen remodeling project rolling? Call 443-300-2268 or request an estimate today!
Areas we service: Ellicott City, Eldersburg, Baltimore, Catonsville, Columbia, Milford Mill, Owings Mills, Pikesville, Randallstown, Reisterstown, and Westminster.