Kitchen Remodeling
Serving Carroll, Frederick, Baltimore, Howard, Montgomery, and Northern Anne Arundel Counties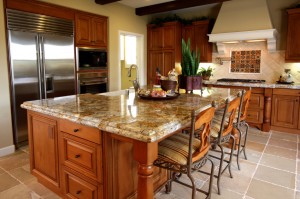 From packing your kids' lunches in the morning to cooking for your extended family on Thanksgiving, your kitchen is easily one of the most popular spaces in your home. With all of the time you spend in it, there's no reason it shouldn't be beautiful.
If your kitchen is begging for a renovation, our team at Design Build Remodeling Group of Maryland can make it happen.
Our team has worked with many homeowners to successfully remodel their kitchens to reflect their unique tastes and style choices. We'll listen to your ideas, while also sharing some of our own. If you have a plan you're confident in, we can make it happen. If you're clueless about exactly what you want, don't worry. We can create a kitchen redesign that you'll love.
We provide kitchen remodeling services in Carroll County, Frederick County, Howard County, Montgomery County, Baltimore County, and throughout Maryland.
Maryland Kitchen Remodeling Services
When you partner with us for your next remodeling project, we'll take you through a step by step process to make sure your ideas are heard and you're more than satisfied with the final outcome.
We'll start with an in-home consultation where we'll discuss project ideas and share general estimates. Our goal is to get you excited about your project right from the start, while also making sure you know what to expect going forward.
The next step is design creation. We'll discuss your vision for the space, while also sharing some ideas of our own, and will together create a plan you're eager to move forward with.
Finally, we'll get started on bringing your dream space to life. Some of the services we'll provide are:
Layout design and planning
Material selection for flooring, trim, and paint color
Cabinetry and countertop selection
Placement and selection of appliances
Placement and installation of lighting fixtures
And more!
Schedule a Kitchen Redesign in the Baltimore Area
Regardless of the size of your project, our team will stay committed to it from start to finish. We never leave a project incomplete, and we'll work with you every step of the way to bring your vision to life.
With over 30 years' experience in the remodeling industry, our team is well equipped to give you the space of your dreams. To get started on bringing your vision to life, give us a call at (443) 300-2268​​​​​​​​​​​​​​​​​​​​​​​​​​​​​​​​​​​​​​​​​​​​​​​​​​​​​​​​​​​​​​​​​​​​​​​​​​​​​​​​​​​​​​​​​​​​​​​​​​​​​​​​​​​​​​​​​​​​​​​​​​​​​​​​​​​​​​​​​​​​​​​​​​​​​​​​​​​​​​​​​​​​​​​​​​​​​​​​​​​​​​​​​​​​​​​​​​​​​​​​​​​​​​​​​​​​​​​​​​​​​​​​​​​​​​​​​​​​​​​​​​​​​​​​​​​​​​​​​​​​​​​​​​​​​​​​​​​​​​​​​​​​​​​​​​​​​​​​​​​​​​​​​​​​​​​​​​​​​​​​​​​​​​​​​​​​​​​​​​​​​​​​​​​​​​​​​​​​​​​​​​​​​​​​​​​​​​​​​​​​​​​​​​​​​​​​​​​​​​​​​​​​​​​​​​​​​​​​​​​​​​​​​​​​​​​​​​​​​​​​​​​​​​​​​​​​​​​​​​​​​​​​​​​​​​​​​​​​​​​​​​​​​​​​​​​​​​​​​​​​​​​​​​​​​​​​​​​​​​​​​​​​​​​​​​​​​​​​​​​​​​​​​​​​​​​​​​​​​​​​​​​​​​​​​​​​​​​​​​​​​​​​​​​​​​​​​​​​​​​​​​​​​​​​​​​​​​​​​​​​​​​​​​​​​​​​​​​​​​​​​​​​​​​​​​​​​​​​​​​​​​​​​​​​​​​​​​​​​​​​​​​​​​​​​​​​​​​​​​​​​​​​​​​​​​​​​​​​​​​​​​​​​​​​​​​​​​​​​​​​​​​​​​​​​​​​​​​​​​​​​​​​​​​​​​​​​​​​​​​​​​​​​​​​​​​​​​​​​​​​​​​​​​​​​​​​​​​​​​​​​​​​​​​​​​​​​​​​​​​​​​​​​​​​​​​​​​​​​​​​​​​​​​​​​​​​​​​​​​​​​​​​​​​​​​​​​​​​​​​​​​​​​​​​​​​​​​​​​​​​​​​​​​​​​​​​​​​​​​​​​​​​​​​​​​​​​​​​​​​​​​​​​​​​​​​​​​​​​​​​​​​​​​​​​​​​​​​​​​​​​​​​​​​​​​​​​​​​​​​​​​​​​​​​​​​​​​​​​​​​​​​​​​​​​​​​​​​​​​​​​​​​​​​​​​​​​​​​​​​​​​​​​​​​​​​​​​​​​​​​​​​​​​​​​​​​​​​​​​​​​​​​​​​​​​​​​​​​​​​​​​​​​​​​​​​​​​​​​​​​​​​​​​​​​​​​​​​​​​​​​​​​​​​​​​​​​​​​​​​​​​​​​​​​​​​​​​​​​​​​​​​​​​​​​​​​​​​​​​​​​​​​​​​​​​​​​​​​​​​​​​​​​​​​​​​​​​​​​​​​​​​​​​​​​​​​​​​​​​​​​​​​​​​​​​​​​​​​​​​​​​​​​​​​​​​​​​​​​​​​​​​​​​​​​​​​​​​​​​​​​​​​​​​​​​​​​​​​​​​​​​​​​​​​​​​​​ or contact us online today!
Areas we service: Ellicott City, Eldersburg, Baltimore, Catonsville, Columbia, Milford Mill, Owings Mills, Pikesville, Randallstown, Reisterstown, and Westminster.
Gallery of Completed Kitchen Projects