Home Additions
Serving Carroll, Frederick, Baltimore, Howard, Montgomery, and Northern Anne Arundel Counties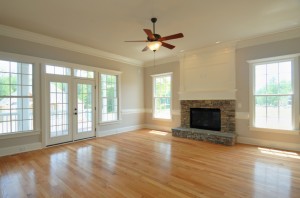 Has your family outgrown your house? Are you constantly looking for ways to make your living space fit your needs? Whether your young family is expanding, grown children are moving back in, or you need some extra space for your parents, there are a multitude of reasons that the space in your home simply isn't cutting it anymore. Moving is out of the question because you still love your home and your neighborhood. You appreciate how the light changes with the seasons and know which windows offer the best views. This is the home you planned to stay in for the long haul. Why shouldn't you?
The addition of one or more rooms will completely transform your home without losing all the charm that attracted you to It in the first place. Design Build Remodeling Group of Maryland has years of experience in designing and building beautiful, seamless home additions, including second-story additions, and more. Our skilled team has a broad understanding of what our clients want, combined with the ability to create stunning home projects.
Are you ready to add an addition to your home? Call 443-300-2268​ or request a quote online!
Planning Your Home Addition
We understand your passion for your home, and we know that you want to improve the way your family fits comfortably into it without any flaws or interruptions to the original architecture or style. In order to acquire a clear picture of one or more additions that will best suit your lifestyle and needs, our team will carefully examine every detail of your home while taking note of your ideas, needs, and preferences. We are committed to understanding how your family currently lives and implementing the changes you'd like to make.
Adding on to your current home will require you to make innumerable design decisions. From the how much and how big to the finish you want, you'll spend countless hours discussing what you like, especially if this is your first remodel. However, the experts at Design Build Remodeling Group of Maryland will be there from the first day to the last, so can find peace of mind the job will be done right.
Types of Home Additions
Whether you need extra bedrooms for your growing family, office space for a home-based business, or a comfortable in-law suite for your parents, Design Build Remodeling Group of Maryland is experienced in creating and building all types of home additions, including the following:
Single or dual home offices
Porches or extensions
Our Addition Process
When you choose to work with Design Build Remodeling Group of Maryland for your addition needs, our team will take you through the following process:
In-home consultation. As part of our in-home consultation, our experts will discuss the scope of your project, take measurements, listen to your ideas and addition needs, and present you with general estimates for the work you want done.
Planning. During our next meeting, we'll present you with several conceptual plans and drawings of the addition designs we created for you, and will give you plenty of opportunities to make your choice or give us input on any changes you may want to make. If you decide not to move forward or need more time, we'll give you credit for up to 12 months.
Final preparation. If you wish to continue, we'll work with you to refine the plans, sign contracts and assist you in making interior décor and finish choices. Our building team will perform a site inspection and take final measurements.
Construction. During the construction phase, we'll finalize project ideas, discuss warranties, and do our best to cause the least disruption to your daily life.
Being patient during an addition process is key. Expanding a well-loved home is a sure way to keep that love alive for future generations.
Home Addition Services in Maryland
Whatever your Maryland home addition need, Design Build Remodeling Group of Maryland can help you make it happen, from planning and design, all the way through to final inspection and clean-up. With over 30 years of home-building industry experience, we have built a stellar reputation for our professionalism and workmanship. Our knowledgeable staff and experienced workforce has provided top-notch home additions in Carroll County, Howard County, Montgomery County, Frederick County, Baltimore County, Anne Arundel County, and many other parts of Maryland.
When you're ready to get started, fill out the form or call 443-300-2268​ to speak with our experts!!
Areas we service: Ellicott City, Eldersburg, Baltimore, Catonsville, Columbia, Milford Mill, Owings Mills, Pikesville, Randallstown, Reisterstown, and Westminster.