Kitchen Additions
Serving Carroll, Frederick, Baltimore, Howard, Montgomery, and Northern Anne Arundel Counties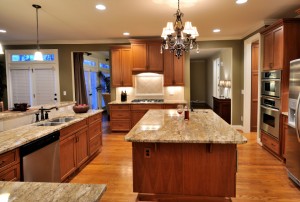 The kitchen is more than just a room to prepare meals—it's the heart and soul of your home. Kitchens are a place for family time, social gatherings, and special dinners. You use your kitchen more than any room in the house. Think about it—every morning starts in the kitchen with a cup of coffee and every day ends with a midnight snack. But without plenty of seating, ample storage, or a practical layout, your kitchen will not be the welcoming room you deserve.
You want functionality. You want comfort. You want elegance you can enjoy. But how do you get that picture-perfect kitchen with the space you have? Building a kitchen addition is the best way to add value to your home and satisfaction to your family. A well-designed kitchen can create a space that will become central to your family, as well as to your entertaining. It can bring back the joy of cooking – and eating!
One of the most important factors to consider before remodeling your kitchen is your contractor. You want to choose a quality contractor to work with you through the addition process. At Design Build Remodeling Group of Maryland, we promise to guide you every step of the way, assuring that your new kitchen will add value and beauty to your home. We know how to address such issues as proper lighting needs, location of appliances, adequate counter space, optional breakfast area, and much more.
We can show you various solutions to fit your budget so that you can make an informed decision based on facts and design options to envision your new addition.
If you are interested in our kitchen addition services, read on and contact us today with any questions or ideas! We are excited to get started adding to your kitchen!
Kitchen Addition Services in the Baltimore Area
Not sure what you want to add to your kitchen? Our experts have provided some of the services we offer to turn your outdated space into a masterpiece you'll want to show off to friends and family.
Layout design & planning. Have no clue what you want? Have a Pinterest board full of ideas, but no idea how to make it happen? At Design Build Remodeling Group of Maryland, we work with you to combine your ideas and our expertise into a feasible plan.
Material selection for flooring, cabinets, and paint color. Not sure what cabinet style would look best in your home? Want to match your flooring to your cabinets? We can help you select a flooring to tie your entire kitchen together, cabinets that are sleek, and a paint color scheme to showcase your style.
Appliance placement and selection. Appliance placement is a great kitchen addition that will have your kitchen feel more efficient than ever. Need help selecting appliances? We've got you covered there too!
New wall and flooring construction. Want to redesign the layout of your kitchen? We can help! We'll add walls to section off your kitchen for privacy and functionality.
Window placement and installation. Good replacement windows can keep you warmer in the winter and cooler in the summer—and may notice a decrease in your utility bills!
Door placement and installation. New kitchen doors can change the entire look of your dining space. Modern designs—or colonial, if that's your style—can add a unique character to your pantry or kitchen.
Lighting fixture placement and installation. Lighting fixtures are great kitchen additions. Need under-the-cabinet lights? A chandelier over the breakfast nook? Bring us your ideas and we can make it happen.
And more! Is your project not on our list? No worries—just give us a call! We can establish the scope of the work and give you a rough estimate!
Contact Design Build Remodeling Group of Maryland to begin planning your new kitchen additions today!
Why Choose Design Build Remodeling Group of Maryland for Your Kitchen Addition?
If you are looking to spruce up your kitchen, look no further than Design Build Remodeling Group of Maryland. We have been in the home improvement industry for over 30 years and pride ourselves on providing excellent remodeling and home addition services.
We specialize in the design and construction of major, large-scale home remodeling projects. Kitchen additions are among some of our top services—bring us your project ideas today! Call us at (443) 300-2268
Areas we service: Ellicott City, Eldersburg, Baltimore, Catonsville, Columbia, Milford Mill, Owings Mills, Pikesville, Randallstown, Reisterstown, and Westminster.
Gallery of Completed Kitchen Projects