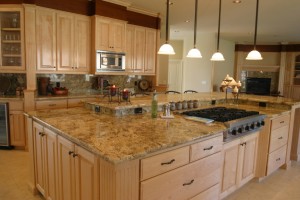 When you are remodeling your home, it is natural to consider cost very seriously and wonder if you are putting your money into the right projects – especially if you plan to put your home on the market at any point in the future. For this reason, you should be aware of what remodeling options will give you the best return on investment. Some options that seem intriguing and fancy, like swimming pools, can actually turn potential buyers away who don't want to deal with the required upkeep. The home improvement options below will increase your home value for the future and ease your daily life until then.
Front Door
Your front door is your first impression. Updating your front door not only makes a statement about what the inside of your home looks like, but it can provide increased security, warmth and a more effective barrier from outdoor noise. It is also fairly cheap and doing a steel entry door replacement is proven to be a great return on investment.
Kitchen/Appliances
One of the tell-tale signs of a house being "outdated" is older, rickety kitchen appliances. You may be comfortable with the same refrigerator or microwave you have had for years. But if you invest in new and energy-efficient appliances, they will likely be both more aesthetically pleasing and more beneficial for your electric bill in the long run. Also, if you have a free-standing refrigerator, remodeling it to instead "hide" the appliances within the design of your kitchen it can open up more floor space and feel more organic.
Paint!
Are you still living with Grandma's wallpaper in the bathroom or kitchen? Are all of your bedrooms still covered in that dingy off-white paint that it had when you moved in? Is it chipped? Updating the paint in your home can really change the way you see your space. Don't go overboard with colors too dark or bright that you will have trouble covering them up if you change your mind (or if a potential buyer has a different vision). Stick with fairly neutral colors, or add a pop of color with an accent wall to brighten the space.
Bathroom Addition or Remodeling
Bathrooms can be a real source of stress for a household if there is not enough space. Even if you do not plan to move, if you are currently operating your household with 1.5 baths and a larger family you will likely benefit greatly from investing on a full bathroom addition or remodeling project. It is intensely rare that a potential buyer would see an increase in bathrooms as a downfall. People like to have space to take their time and manage their family as they get ready for their day and wind down at the end of it. It doesn't have to be too fancy, but investing your money in an additional bathroom can go a long way.
If you are interested in remodeling your home for a fuller life now or an easier and more effective sell later, Design Build Remodeling Group would be happy to help you with all of your needs at a great price. Request a free estimate today!