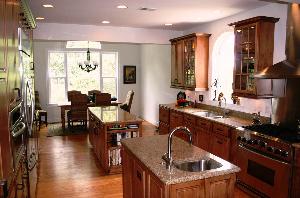 As holiday season approaches, many families begin spending more time in their kitchens preparing to cook for large groups of family members and friends. If your space is limited, this can seem daunting and impossible rather than exciting. Investing in a minor kitchen remodel can definitely ease the task, but investing in a major kitchen remodel with upscale finishes can make a remarkable and convenient difference in your daily flow while adding value to your home. In addition to features like stone countertops, cherry cabinets, cork flooring, built-in ovens with multiple burners and task lighting, the following upscale features can benefit you in impressive ways.
Built-In Warming Drawer
Built-in warming drawers are a feature often installed to match a current or new built-in oven. They can also be disguised as normal cabinetry, implemented into a space with some spare room like an island. When cooking for large groups, built-in warming drawers are ideal for keeping dishes or appetizers like bread warm until they are ready for serving. They also save counter space between preparing courses. Check out more about their potential placement and uses here.
Built-In Refrigerator
Built-in refrigerators flush smoothly with other kitchen cabinetry and add an incredibly sleek and upscale finish to a kitchen. When tucked into the proper wall cavity, they also increase floor space for swifter movement throughout your kitchen. Built-in refrigerators are said to keep produce and other food fresher longer (saving you money on your grocery bill in the long run) and outlive the average freestanding refrigerator in space, quality and performance. Check out some examples of built-in refrigerator home designs here.
Pot Filler
Pot fillers are very common in restaurants but are becoming more popular in personal kitchen designs due to their convenience and appearance. A pot filler is a faucet with long, collapsible arms installed directly above your stovetop or mounted to the side that folds up neatly when not in use. It is meant to ease the process of filling a pot with water and free up space in your actual sink when preparing a meal. Check out examples of pot filler home designs here.
Built-In Water Filtration System
Installing a high-end undermount sink with designer faucets and a built-in water filtration system enhances the quality of your water for healthier drinking and cooking. It also eliminates the clutter and hassle of a handheld water filtration system that requires fairly constant refilling when accommodating large parties.
Built-In Trash Compactor
Whether you live alone or are used to accommodating large groups, trash can tend to pile up and create an odor faster than you might like. Built-in trash compactors are more thought to be more aesthetically pleasing than a standard trash can and have deodorizing mechanisms that can keep your upscale kitchen free of the unwanted smell of garbage, while housing weeks of garbage in one bag. Check out other benefits of trash compactors here.
Design Build Remodeling Group is prepared to meet your upscale kitchen remodeling needs with enthusiasm and professionalism. We have highly regarded experience in kitchen remodeling and additions and are happy to work with you to create your ideal kitchen for cooking, relaxing, entertaining and more. Check out our gallery of completed kitchen projects and request an estimate today!