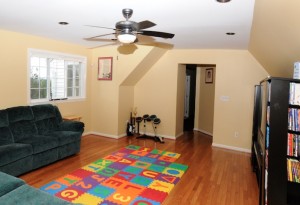 When building an addition onto the side of your house isn't an option, either because of zoning, space restrictions or both, consider an attic bedroom remodel. Like other home renovations, converting your dusty, unused attic into an extra bedroom or office is a sound investment.
It's one of the best investments you can make, according to the 2015 Cost vs. Value Report (which can be downloaded for free at www.costvsvalue.com). An attic bedroom with bath retains over 75 percent of its value, a huge return for improving space that you already have in your home.
To determine whether an attic remodel is right for your home, consider the following:
Building Codes
Is your project compliant with local building codes? Ceiling, joist and egress codes all must be taken into account. Is your ceiling high enough? Are there windows in your design? Will the floor joists be able to support drywall, flooring, lighting and HVAC components? Your contractor should be able to guide you through this process and answer any questions related to city/county code compliance.
Support Structures
Can your house support the weight of an attic remodel? The structured framing under the roof––rafters, for example––will help determine if you can convert an attic into a usable room. If you have an old house, you'll want to have the structure thoroughly inspected to be sure it can support the weight of a remodel.
HVAC, Electrical, Plumbing
A licensed electrician will tell you whether your existing electric panel can support an additional room. If your system is able, it's relatively easy to run wire.
Similarly for plumbing, you can cut costs by putting a bath close to the main stack, or large pipes that carry waste out of the house. By putting a toilet, shower and sink close, that reduces the length of pipes needed for the installation.
If your forced air blower can circulate enough air to the attic, you may be able to work off of your existing HVAC unit. Otherwise, you may need electric baseboard heating and a window air conditioner. While these may not be ideal, it may be your only option depending on the size of your home and efficiency of your HVAC system.
Access
While this may seem like a no brainer, having access to your attic by means other than a pull down ladder or fire escape is crucial. Staircases with straight runs are the easiest to install but take up the most space. Spiral staircases are great space savers but are more expensive. If you're short on interior space, discuss the option of an outdoor staircase with your design build remodeler.
An attic remodel is a great way to expand your home space without having to build out and is a great financial investment for your future. Design Build Remodeling Group of Maryland are premier remodelers in the area and can help turn your old, untouched attic into a guest bedroom, den or home office. For a free consultation, contact Design Build Remodeling Group today to discuss your attic design.