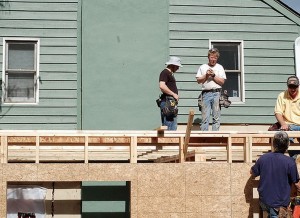 Most homeowners agree that having a little extra space would be nice. Maybe a bigger kitchen, an additional bedroom or a living room could be beneficial. One of the most common questions about additions is, "do we have the space to expand?" In some cases, when exterior space is limited, the only solution is to build up. All significant additions pose some sort of challenge but figuring out how to build on top of an existing structure raises a few unique issues that must be addressed.
Adjusting the height of the existing structure
You might need to shorten or heighten your existing walls to match the new structure's height with the rest of your home or to give enough clearance for new second-story windows. If building over a garage, you'll also need to make sure that the garage door remains functional.
Match the exterior
Depending on the age of the existing structure, it might be very difficult to find a matching exterior surface. Even if you find the same shingles, brick, siding, stone, etc. that were originally used, older surfaces may be faded.
Plumbing
This is often one of the biggest challenges of building a new addition. If your wastewater drain is in a central location, your contractor may need to work through a lot of drywall to connect the new drain to the existing one. You might even have to reframe parts of some walls or move some ductwork.
Heating/Cooling
Your current HVAC system probably doesn't have enough output to effectively cool and heat an additional four or five hundred square feet. As a result, you may need to upgrade your existing HVAC unit or possibly add a second one. Solutions will depend on the size of your existing system, placement of ductwork and your budget. Your design build contractor will be able to advise on this.
If you're in search for a remodeler that understands these challenges, contact Design Build Remodeling Group of Maryland. We have the experience and track record to deliver on any addition project, no matter the size. For more information about building up in the D.C. metro area, contact Design Build Remodeling Group today to speak to a design build expert.