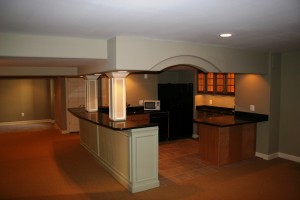 The basement is most often the area of the house is considered very low on the priority list for renovation and updating. Although a kitchen or bathroom remodel can add functionality and long-term value to your home, never underestimate the equally important benefits that come from having a finished basement.
A basement can offer you a wide variety of options: a recreation room, home theater, home office, or even an in-home apartment for family/friends. The biggest benefit of a finished basement is the extra usable space it creates in your home. The added space can make a significant difference in the ease and convenience of your everyday life. In addition to extra space, a basement that is properly finished eliminates the very common problem of damp, moldy basement areas. Water and mold problems in the basement can often cause damage to the floor, walls, and stored materials.
Because basements are naturally insulated by the earth, you'll spend less on heating and cooling costs and find yourself drawn there on particularly hot or cold days. Additionally, a home with a finished basement can provide additional value when it comes time to sell. The extra livable space will add square footage to your home which can make all the difference when it comes to potential buyers.
Feel free to check out our Basements page and gallery for some ideas.