This blog post highlights an addition for laundry room & powder room, as well as a full kitchen remodel in Eldersburg, MD.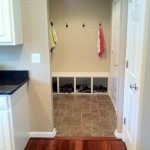 Originally, the powder room was part of the existing kitchen and the laundry room was caddy-cornered between the existing kitchen and garage. The approximate 9′ x 20′ addition for the laundry room & powder room was built on piers adjacent to the kitchen and existing laundry area. This existing laundry area (approximately 8′ x 6′) that separated the kitchen from garage was converted to a mud room with a custom bench and shoe cubby.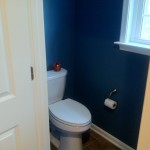 The new 7′ x 3′ powder room included a brand new toilet and vanity, while the old fixtures were donated. The 11′ x 9 ' laundry area consisted of brand new washer & drier units, a kitchen-style utility sink, laundry-folding area, small utility closet, floor and hanging cabinetry, and large 5′ x 9′ fully shelved, wrap-around style storage closet. The entire area features interlaced custom 6.5″ x 6.5″ and 13″ x 13″ canyon espresso tiles. Between the new mud room (old laundry area) and the addition, we added two approximately 3′ x 2' enclosures; a walk-in pantry and coat-closet. While this area was under construction, we temporarily setup a washer and drier unit in the basement so the homeowner was inconvenienced as little as possible.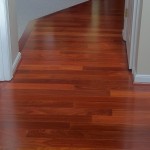 On top of the addition, we completely remodeled the existing kitchen. This kitchen upgrade included brand new cabinetry, countertops, appliances, and beautiful mahogany flooring that extended throughout the entire kitchen & front foyer. We replaced the rear kitchen door that leads to the deck, as well as all the windows. Additionally, we nearly doubled the size of their existing island area. In order to increase the size of their center island, we added a double joist in the floor for support. One unique aspect of the kitchen remodel was the installation of an air-powered garbage disposal, located in none-other than the center island. This garbage disposal is operated simply by pushing a button next to the faucet of the island sink. The old powder room was originally attached directly to the kitchen, so relocating it to the new addition opened up quite a bit of space in the breakfast area. Check out the additional pictures below that show the newly remodeled kitchen and added laundry room addition…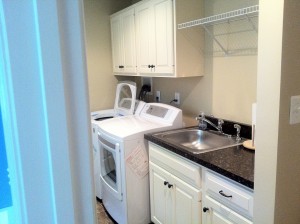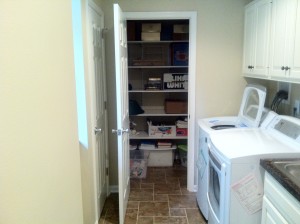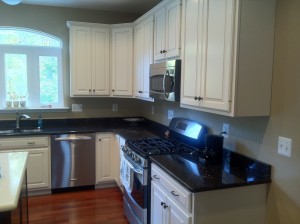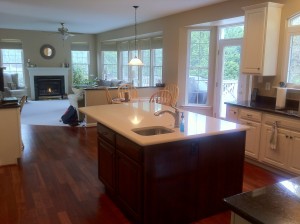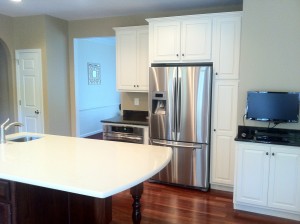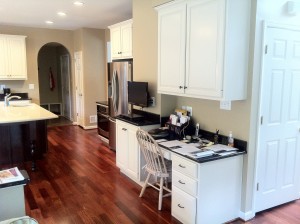 To read more about our Carroll County Home Remodeling Services, click here! You can also contact Design Build Remodeling Group by clicking here.