A fireplace is a great source of alternative heat and can be an attractive focal point. But over time, neglected fireplaces can crack, rot and fall apart, becoming a real eyesore! Instead of trying to cover the cracked façade with more pictures and knickknacks, consider a fireplace makeover. With Design Build Remodeling Group, you can turn your fireplace into a functioning piece of art in plenty of time before the freezing winter weather approaches!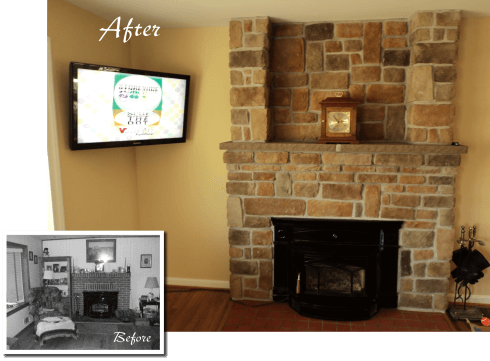 Ideally, you want your new fireplace to complement not only the room it's in but your home. Brick fireplaces are most common but there are other solutions. Covering brick with a tile or wood façade is becoming increasingly popular, especially for those looking to give their fireplace a new modern look. You may also drywall or plaster or brick, creating a clean look that allows you to "start over" in terms of decorating. Lastly, painted brick is also an option. If the reddish tones don't match the overall theme, spruce it up by painting. Note that with paint, you may need to apply several coats before getting the desired color. Depending on your design, you might want to include a mantel. For more of a rustic look, reclaimed wood mantels are highly popular. If you're going for the clean canvass, a simple painted mantel will do the trick. Maybe your design is a bit more comprehensive and includes built-in bookshelves and a space for a television.
Whatever your idea, Design Build Remodeling Group can help turn your fireplace into the entertainment center of your dreams. Our skilled team of experts will help you develop a functional fireplace design that works with your home. Contact us today for a free estimate!