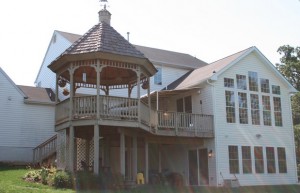 Transform your home and maximize square footage by adding a second-story addition. Especially in areas where space is at a premium, building up may be your only option. Before moving forward, consider the impact a second-story addition may have on the rest of your home. Be sure to discuss any and all foreseeable issues with your design build remodeler before beginning construction. A few considerations before beginning your second-story addition:
Stairs
In most cases, a second-story means the addition of a staircase, which can eat up a sizable chunk of square footage. Get creative with your design: Consider a spiral staircase over a straight staircase. Installing upper staircases over lower ones also saves on space.
Mechanical and electrical
Keep in mind that your furnace, water heater and electrical all function according to the size of your home. When you increase the square footage, you may need to replace some of these systems. Electrical panels need to be upgraded and HVAC systems replaced or added. Consider an energy-efficient system such as ductless heat pumps and solar-assisted hot water panels. Discuss this issue with your contractor.
Roofing
Part of the demolition process for second-story additions is removing and replacing the old roof to make sure it matches. A contractor experienced with these kinds of remodels will have protection systems to keep rain out during the remodeling process, but it won't be feasible to live in these conditions. Be sure to think about this before beginning your project.
Whole house impact
A second-story addition impacts the existing structure of your home in many ways. This includes mechanical work, structural pressure and aesthetic appeal. Make sure to discuss these issues during the planning phase to ensure your new addition will achieve your desired function and curb appeal.
A second-story addition could be the answer you and your family are seeking to help increase your living space and add serious value. If you're interested in taking the next steps towards a new addition, or would simply like more information, contact Design Build Remodeling Group to speak with a licensed professional.