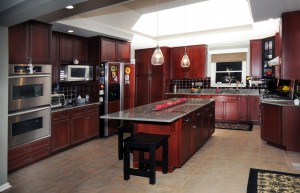 Although it is only September, preparing for the holidays is a must! You should begin planning your next remodeling project before the holidays arrive. If you will hosting family and friends this holiday season, your home should be able to accommodate the number of guests. With Design Build Remodeling Group, we can assist you when planning all the projects you need to complete before the first guest walks through your door.
Our team offers many options ranging from kitchen remodels to guest room add-ons for your home. Whether you need to add a new dining area for additional seating at dinner, a guest room for family staying over, or the perfect kitchen to cook that special holiday meal, Design Build Remodeling Group is here to help! All the extra space and renovations can add value to your home, too. A fast way to increase your home's value is through home remodeling and home addition projects, especially with the current housing market.
The first step to preparing your home for the holidays is by contacting our team to schedule an in-home consultation. We want to get an idea of your home's needs and how we can help. Once we determine your needs, we will return to your home to obtain all necessary measurements and information. Then we will create multiple design options from which you can choose or customize to fit your needs. Your home remodeling project should be ideal for you and your family. After we have a design, we will refine an estimate and finishes such as surface material, flooring, and light fixtures, so that construction can begin. When construction is completed, your home will be ready for the holiday season!

Hosting family and friends for any event should feel rewarding. Your family will feel welcome and thrilled when they see a remodeled kitchen, new guest room, or even a renovated bathroom this year. Keep the holiday stress at a minimum and begin planning your home's remodel with Design Build Remodeling Group, today!
The holidays will no longer seem as daunting when home remodeling is completed. Contact Design Build Remodeling Group to request a FREE consultation on your holiday home improvement project!