Thanksgiving is a time for being with family and giving thanks for what you have and the people surrounding you. Here at Design Build Remodeling Group, we just want to say that we're thankful for you and your loyalty to our company. In 2014, we've taken on a number of different projects from kitchen remodels and bathroom updates to full-scale additions and other home renovations. Every project offers something unique and for that, we're thankful! Here's a look at a few of the home projects we've completed recently.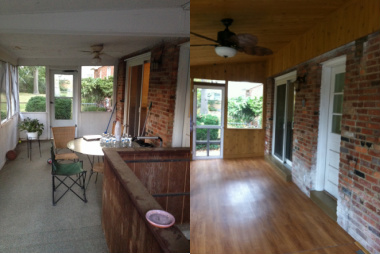 Porch addition: Silver Spring, MD 20904
Originally we were planning on reviving the porch, but after finding structural damage, we ended up re-framing the whole thing. Even with that setback, we still finished this project within the three and a half week period we had originally anticipated. The unique feature here is the trap door that was added to aesthetically hide the basement areaway (the knee wall is what hid it, as you can see in the "Before"). This feature really opens the porch up.
Before and After movement of kitchen shelf piece and mural
In-law suite Remodel with Kitchen Update: Westminster, MD 21157
The entire house was updated and we added an in-law suite addition. What sets this project apart from others is the sentimental value behind it. The house originally belonged to the client's mother. There was mural hand-painted by a friend of hers in the original kitchen. She desperately wanted to move into the new in-law suite with her. After careful planning and dedication, our team was able to remove the mural from the original kitchen and transfer it to the new kitchen without breaking any part of it. The clients (especially the mother) were thrilled.

Fireplace: Ellicott City, MD 21043
The fireplace was originally on a corner wall in the living room. We moved it to the side wall. The detail of the stone work, the outlets, the finished shelving — this project displays our expert craftsmanship and dedication to our work. The uniqueness of this new fireplace is that it is a bio-ethanol fireplace which means that it only emits steam and carbon dioxide and needs no ventilation. So for this particular penthouse condo, the bio-ethanol fireplace was the perfect solution.
Once again, thank you for helping to make Design Build Remodeling Group one of the premier home contractors in Maryland. If you have a home project design in mind or need help with one, we're here to assist. Contact us today to get started!