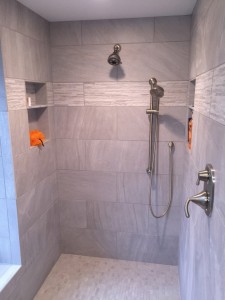 If you are the head of your household then chances are that after a long day, you retreat to your master bedroom to relax and sleep. A master bedroom (most commonly occupied by the head of the household) is normally defined by being the largest bedroom in a home or apartment. But what if your "master" bedroom doesn't feel like anything special after all? It might be time to consider a master suite addition (upscale finishes optional) with Design Build Remodeling Group.
Standard Elements of a Master Suite
A master bedroom addition is a 24-by-16 foot suite over a crawlspace. It includes a walk-in closet/dressing area, especially convenient for couples with separate wardrobes. It also includes a whirlpool tub in ceramic tile platform, separate 3-by-4-foot ceramic tile shower and double-bowl vanity with solid-surface countertop. The bedroom floor is carpet, while the bathroom floor is ceramic tile. The walls are painted to your preference as well as ceiling and trim designs. General and spot lighting and an exhaust fan is included with electrical wiring to code.
Upscale Elements
An upscale master bedroom is a much larger 32-by-20 foot suite over a crawlspace. The bathroom includes a luxurious walk-in shower with dual-shower system. You can also add a corner-design whirlpool tub bordered on two sides by windows (yay for natural light!) and built into a granite or marble platform with a custom cabinet front. You can include two sinks in separate custom vanities with stone countertops and large mirrors. Creating a partitioned area for a luxury one-piece toilet that separates the area comfortably is also an option (standard and upscale). With these elements, bickering with your loved one about who gets to shower first in the morning or use the mirror will be a thing of the past.
In an upscale master bedroom, you can add a spacious sleeping area with a lounging/sitting area adjacent to the master bathroom. To accompany this area, other features you can add are: custom bookcases and built-in storage with millwork details, a high-end gas fireplace with stone hearth and custom mantle, a large walk-in closet/dressing area with natural light, mirrors, linen storage and french exterior doors. On top of that, you can add a 5-ft-long hospitality center with bar sink, under-counter refrigerator, custom cabinetry, granite or marble countertop and microwave. This includes soundproofing, in-floor heating, custom wall-finishes and hardware, general and spot lighting, and lighting controls. For master bedroom addition design ideas click here.
What Does This Mean For You?
Can you even imagine? Implementing upscale elements to your master suite addition can transform your bedroom into a space that isn't just appealing and spacious to sleep in. Working from home is becoming increasingly acceptable, and this space could now double as a secondary kitchen or home office where you won't have to worry about your children or pets chiming into the background of your phone calls with clients. And best of all, when it is time to punch the clock, your bed is only a few short steps away.
Contact Design Build Remodeling Group Today
Design Build Remodeling Group is an experienced team that is capable of producing quality results for your master suite addition and any other remodeling projects you may need. Request a free consultation and site visit! To see an example of a master suite additions we have completed click here.