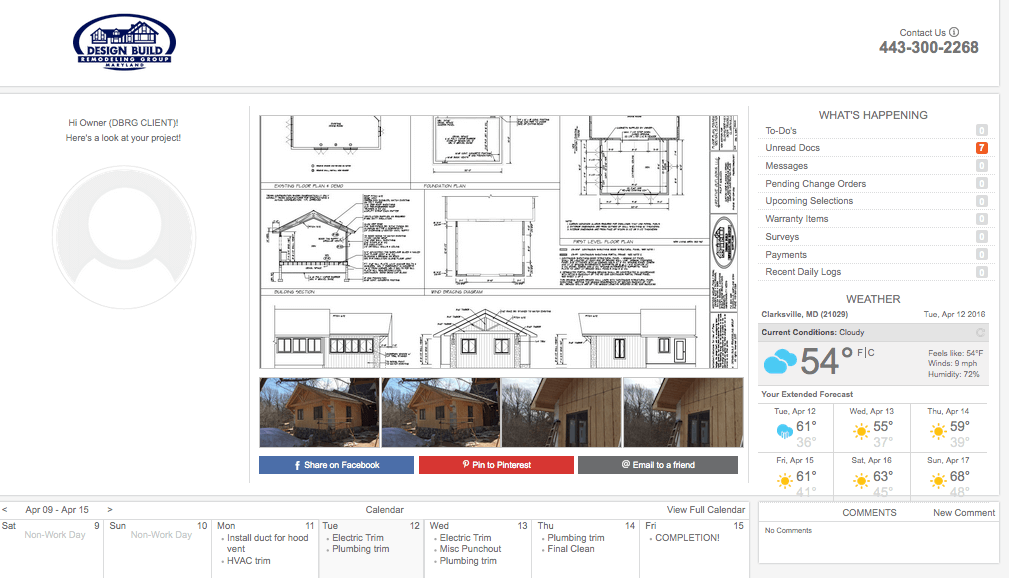 Many homeowners who are in need of major remodeling projects are hesitant to take the leap. Why is this? After all, the sooner you start planning for your major remodeling project the sooner you will be able to enjoy the results. Perhaps some homeowners worry that the result will not be what they envisioned or that they will not be able to oversee the process in its entirety. Sound familiar? It's time to leave worry behind.
Design Build Remodeling Group of Maryland has implemented a strategy that speaks to homeowners just like you, making it easier than ever to oversee your remodeling project. We understand that as a homeowner, you want to be involved in the transformation process that you are investing in. Additionally, you want to place your trust in a contractor that fully understands your wants and needs, while being open to potential changes along the way. No homeowner wants to feel ignored. When you work with us, we guarantee that you will feel valued and heard every step of the way as we turn the dream for your home into a reality.
Who is Design Build Remodeling Group of Maryland?
Design Build Remodeling Group of Maryland (Design Build Remodeling Group of MD) is a full service Maryland remodeling contractor with an impeccable reputation for superior craftsmanship, custom design services, and amazing customer communication. Our expert staff is capable of handling large projects in a timely and reliable manner, while paying close attention to detail in the process. Our ultimate goal is ensuring that our clients are completely satisfied with the quality of our work and the remodeling process. That is why we find it incredibly valuable to uphold clear project communication from start to finish.
How to Digitally Oversee Your Remodeling Project
At Design Build Remodeling Group of MD, we understand that technology is always advancing. That is why we are continuing to update our website to further reflect a positive user experience for our clients. We have implemented a user-friendly online portal that makes it easier than ever for clients to communicate with our staff throughout the design build remodeling process, oversee fine details, and make changes as necessary.
This secure, cloud-based online portal makes it possible for you to manage your project from any location using your laptop, tablet, or mobile device. Using our online portal, you will have access to a unique webpage that caters specifically to your remodeling project. From there, you are able to control the following:
View your project calendar and schedule

Communicate with the Project Manager about wants, needs and any changes to your vision

Share progress photos with friends and family

Submit/review/revise and approve documents and selections

Make payments towards your remodeling project
Leave Worry Behind and Contact Design Build Remodeling Group of MD Today!
If you are looking for a distinguished remodeling company known for excellent customer service and high quality work, look no further. At Design Build Remodeling Group of MD, we minimize the inconveniences that often accompany a major remodeling project and have revolutionized the way we do business by integrating our user-friendly online portal.
We provide remodeling contractor services in Carroll County, Howard County, Montgomery County, Baltimore County, Frederick County, and Anne Arundel County and offer the following services: Maryland Home Additions, Maryland Second Story Additions, Maryland In-Law Additions, Maryland Family Room Additions, Maryland Master Bedroom Suites, Maryland Kitchen Remodeling, Maryland Master-Bathroom Remodeling, Maryland Basement Remodeling, Maryland Remodeling Spaces for Aging Parents and Maryland Remodeling Spaces for Disabilities.
Call us today at (443)-266-3593 and Request a free consultation and site visit!