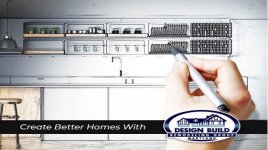 With over 30 years of remodeling experience, Design Build Remodeling Group is the name to trust for your home remodeling project. As professional remodelers and new addition contractors, we take a step-by-step approach to capture and create the remodeling vision in your mind.
In this post, you'll learn more about our complete home remodeling services.
Complete Home Remodeling
As your local home remodeling contractors, we know that every project is different. That's why we take the time to get to know who we work with, so that we have a better idea of how we can satisfy and exceed their remodeling needs.
We specialize in the following remodeling services:
New Home Additions: Living space extensions and new room additions.
Kitchen Remodeling: Whether it's a kitchen update or a new kitchen addition.
Bathroom Remodeling: We'll revamp your bathspace and make it more efficient.
Basements: We turn unfinished basements into real living quarters.
We follow our four step process when we work with you for your remodeling projects. This allows you to choose between remodeling concepts and ideas, and find the best one that fits your aesthetic and utility needs, as well as your budget.
Professional Whole House Renovations
Renovating the entire home is tricky and complex. There's so much to think about – such as adding new flooring or redesigning the current layout. The sheer size of the project means you simply can't elbow grease your way as you would with a smaller project, such as kitchen remodeling. You need a great company that will help you achieve your goals.
Design Build Remodeling Group is that company. With years of experience, our staff and crew ensures high-quality renovation through top-of-the-line services and materials. We'll communicate our plans with you closely and help accommodate your family's needs during this tumultuous yet exciting part of your lives.
Call us today at (443) 300-2268 to learn more about our whole home renovations. We are local home remodeling contractors serving homeowners throughout Bethesda, MD.