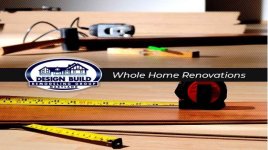 At Design Build Remodeling Group of Maryland, we are home remodeling contractors that specialize in designing and construction of large-scale home remodeling projects – from the suburbs of Maryland to cities in Baltimore and Washington D.C. We offer complete solutions that are tailor-fit for your home's unique needs.
In this post, you'll learn more about what makes us the trusted choice for your home remodeling services.
Your Experienced Remodelers
Our company has over 30 years of experience providing homeowners with exceptional remodeling services. As your local new addition contractors, we work with you every step of the way – from the planning stage to the designing and construction portions of your remodeling project.
We understand that even the smallest home improvement projects require a lot of time and effort. It's one of the few home projects you should always leave in the hands of a professional. That's why when you work with us, we make sure we leave you with a successfully completed project. From start to finish, you can be sure that the work we do always exceeds your expectations.
Our Four Step Process
We use a four step process when you work with us. First, we do an in-home consultation and talk to you about what you need. We discuss potential project ideas and give you general estimates about your home improvement project. Next is our Design Creation phase, where we do concept work on your ideas.
The third phase comes after, which is when we refine the plan, do a site visit, and put together the final touches before construction. When everything is perfect the way you want it, we then start constructing and remodeling your home.
This four step process allows us to make even tricky projects, such as kitchen remodeling, a simple thing to do. Whether you're planning to renovate just your bedroom or the entire home, we're the team you can count on.
Call us today at (443) 300-2268 for more information on our services. We are home remodelingm contractors serving homeowners throughout Washington, D.C.