When it comes to home remodeling, it's easy to look at the broad scope of the project and, as a result, miss out on some of the small (but no less important) details. These details are more than just accessories and decorative fixtures. They can determine the difference between a mediocre project and a stunning result.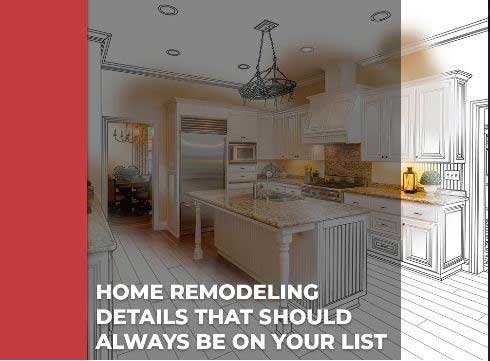 In this post, the home remodeling contractors at Design Build Remodeling Group of Maryland discuss some often-overlooked details to include on your renovation checklist.
Consider a Door Update
Most homeowners, when they are remodeling a specific part of their home, often focus only on one room. But if you're installing new doors and finishing with brand-new hardware, consider updating the rest of the doors in the home. This avoids style clashes and keeps a uniform look in your spaces, even if it's just the door knobs and levers that have been updated.
Upgrade Drawers and Doors
When you're investing in kitchen remodeling, it's vital to improve function. For a smart cabinetry upgrade, we recommend soft-close mechanisms that allow drawers and cabinets to close silently and smoothly, instead of slamming closed. They reduce kitchen noise, allow drawer contents to stay put and are safe for little fingers.
Uniformity in New Additions
Finally, when you're adding on a new addition, establish some uniformity in the new space with respect to your home's architecture. While it may be tempting to add a contemporary-style room to your traditional home, it's better to ensure the new addition fits design-wise to avoid a patchwork look.
As your local new addition contractors, Design Build Remodeling Group of Maryland will be happy to assist you with your home remodeling projects. Call us today at (443) 230-4070 to learn more about our renovation services available to homeowners throughout Washington, DC.