Generations ago, the most important parts of your kitchen were your different appliances. These days, people have been streamlining the entire kitchen either in space or functionality. However, does this mean that they are automatically better?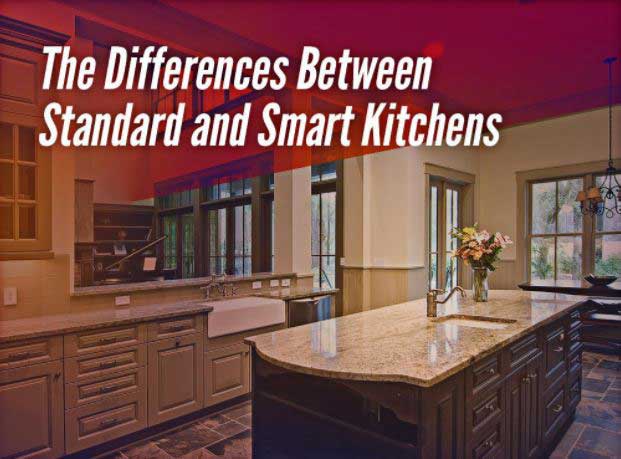 The Design Build Remodeling Group of Maryland, the top kitchen remodeling experts in the area, decided to differentiate the layouts of standard kitchens and new "smart" kitchens.
Standard: Practical and Extravagant
Back in the Baby Boomer era, kitchen appliances were pretty standard. You had the stove, the oven, the dishwasher, the sink and other items. These were practical and allowed you to be ready to cook any meal. With a focus on making the kitchen the center of communication for residents, the layout emphasized more decorative pieces and an island table.
With this came additional spacing concerns. You had to choose where to place them and at what height, weight and color they would be. Concerns about extra deep pull-out drawers and food storage meant that standard kitchens had to accommodate more. While it did make the homeowner more aware of what was bought, it also meant more work for them.
Smart: Clean and Streamlined
Nowadays, most cooking appliances are focused on operating as several things in one. There exists paneled appliances to conserve electricity and work as both an oven and a stove. New technologies mean that you can save space, and you could have them connected to one device by remote control.
While this change of focus made the kitchen smaller and more efficient, note that practicality takes top priority. Instead of having a unique use for each appliance, new items had to be simplified for wider use. On top of that, it meant that decorative elements were not emphasized. A cleaner kitchen meant fewer things and less space consumed according to most new addition contractors.
Which Is Better?
Ultimately, it depends on what needs you have for your kitchen. While a smart kitchen can do various things without hassle, a standard kitchen can give you more space and appeal with the right tools. You should also consider how much food and storage you will be using to make a choice.
Regardless of which design you choose, we can help you plan it out. As the top home remodeling contractors in Maryland, we can make your vision a reality. Call us today at (443) 300-2268 to learn more and schedule a consultation. Our services cover Baltimore, MD, and nearby areas.