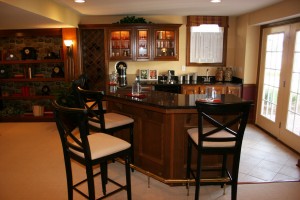 When you are considering the most convenient time to start your next home remodeling project, sunny skies and spring time might seem like the obvious choice. As weather conditions start to deteriorate and become unpredictable in the winter months, the possibilities of exterior work options are limited. This is why the winter months are an ideal time to focus more on interior projects you may have been putting off, without ruling out exterior projects altogether (such as porch additions, which are great to do over the winter months so they're ready to enjoy by spring).
Let there be light!
After the clocks "fall back" in winter, the premature darkness can leave some people feeling more depressed or unmotivated than usual. If you find your home doesn't have as much natural light as you'd prefer in your kitchen or another room, now is a great time to consider remodeling your space or implementing an addition to feature more windows or open areas that allow you to soak up that sunshine without feeling down. Studies show that people who spend more time in natural light have increased alertness and productivity. Help us help you be happier in your home!
Give your basement a makeover.
If you aren't currently utilizing your basement, then you likely won't be very bothered by contractors working in that space to turn it into something wonderful while you carry on about your life. This could mean an apartment for your relatives or friends to stay in when the holidays roll around next year, a game room to keep the kids busy when it's too cold to play outside, a wet bar to retreat to, or a homey place to curl up next to a fireplace and watch a movie or open Christmas presents. The possibilities are endless, and all manageable within the winter months. Check out a gallery of completed basement projects here.
Warm it up!
Do you have floors you aren't happy with or a space with poor insulation that leaves you feeling frigid in the winter months? When considering a whole house renovation, things like new framing, drywall, insulation, replacement roofing and new flooring throughout the house are all possibilities. Redesigning the layout of an existing room structure can also change the way you move within your space and leave you feeling rejuvenated. Check out Design Build Remodeling Group's options for whole house renovation here.
Whatever your needs are this Winter, Design Build Remodeling Group is happy to accommodate your wishes and help you make the most of this practical time so you can enjoy a happier home come Spring. Request a free consultation and site visit! To see an example of a major home addition we have done in the winter months click here.