This blog post highlights a recently completed front-porch addition in Eldersburg, MD – Carroll County (21784).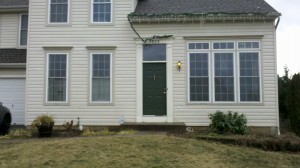 The existing front entryway consisted of a simple concrete stoop with an adjacent sidewalk that connected the front porch to the driveway. Over the years, the uncovered front door was exposed to the elements, causing damage that required constant upkeep and replacement. The homeowner's were tired of the consistent headache and decided to take action. We drew up multiple design ideas for a covered front porch that provided added dimension & depth to their home, while providing an aesthetically pleasing shield to protect their front entryway from Maryland's diverse weather conditions.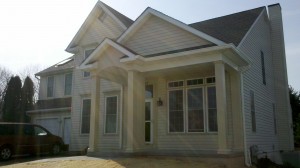 We constructed a beautiful double reverse gable that was supported by five 10′ PermaCast square fiberglass columns equipped with the Tuscan cap & base style. The owners opted for the 10′ columns so the view from their front room was unobstructed. A new Therma-tru Smooth Star front door was installed and we were able to salvage the existing lockset, deadbolt, and light fixture for reuse. We laid roughly 250 square feet of 30-year asphalt shingles (Mission Brown) and poured roughly 190 square feet of new concrete to create an extended front landing with dual sidewalk paths.
The entire covered porch addition added a style beauty and depth to the front of this home. The sturdy, reinforced construction and high-quality materials used in this project will help protect the front entryway of this home from any weather conditions for years to come.
Check out some of the final pictures below!